The arrangement for the return of international students in Australia by 2021 is already underway as a part of the Australian international border opening plan. Initially, the international students will be returned on a staggered basis in this pilot program, and depending on the evaluation reports, further actions will be taken to scale the program or take any precautionary measures.
If you are an international student, currently studying or will be commencing study in an Australian educational institution, then the following updates are for you. The subsequent sections of this blog will inform you about the program itself; who is eligible to take part in it; and more updates from different states and territories of Australia.
Pilot program for the return of international students in Australia: First Batch
Receiving support from the Australian Government, NSW is going to be the first Australian state to trail the return of international students and skilled migrants stuck overseas due to restrictions ensued by COVID-19. In fact, the first chartered plane carrying 250 students from over 15 nations is scheduled to touch down in Sydney on 6th December. The second chartered plane will be bringing in students from India and other South Asian countries on 24th of December.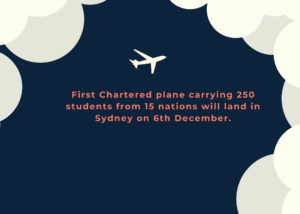 This definitely is a gripping moment that everyone has been patiently waiting for. It's important to note that the exact number of students in a flight is likely to vary, since the pre–departure COVID-19 test will determine a seat on the flight. Please note the NSW International Student Arrivals Pilot Plan will allow a limited number of 250 international students studying with NSW education providers to return each fortnight.
Requirements to travel to Australia
1. Full Vaccination
You need to be fully vaccinated before you can travel to Australia.
To be considered as "fully vaccinated", a minimum of 7-day period must pass since the final dose of your vaccine.
For travel purposes to Australia, the following vaccines and dosages are being accepted.

2-doses with at least 14-day interval period.

Comirnaty (Pfizer)
Vaxzevria (AstraZeneca)
Covishield (AstraZeneca)
Spikevax (Moderna)
Janssen-Cilag (Johnson & Johnson)
Coronavac (Sinovac)
BBIBP-CorV (Sinopharm) (for 18-60 years old)
Covaxin (Bharat Biotech)

1-dose

Johnson & Johnson/ Janssen-Cilag COVID Vaccine

Mixed doses count towards being fully vaccinated as long as all vaccines are approved or recognised by the Therapeutic Goods Administration (TGA).
2. Proof of Vaccination
At the time of departure and at any point when you enter Australia,  you would need to provide a valid vaccination certificate.
If you have been vaccinated in Australia, you would need to provide the International Covid-19 certificate (ICVC).
If you have been vaccinated outside of Australia, you must show a valid foreign vaccination certificate.
Your vaccination certificate must be legible, clear and in English. If it's not in English, you'd need to get it translated. You may want to check the Department of Home Affairs Website for free translations services.
Valid digital certificates are also accepted, as long as they meet other requirements set by TGA.
How to participate in this program?
If you study at an Australian educational institution based in NSW, you might have already received an Expression of Interest Form (EOI Form) to complete. Therefore, it's recommended that you check both your personal and university email for that.
Once you receive the email with the EOI form you are recommended to fill that out as soon as possible to be considered for the program.
If you are not certain that you'd like to come to Australia or not, it's still recommended that you fill out the form. If considered for the program your educational institution will check in with you multiple times, therefore you will have the option further down the line to opt out to coming to Australia by a certain date.
If you have not been offered a seat in a certain batch, you can also choose to be put on a standby list, and you can also select a minimum notification time. In that way, if any seat opens up you'll be notified of that seat.
If you haven't received an EOI Form, then you are advised to contact your education provider as soon as possible. In addition to that you might also want to check the COVID-19 response page of your education provider.

How to know the outcome of my EOI From?
If you have been selected for a certain batch to fly to Australia, your education institution will notify you at least 8 weeks before the departure date.
Quarantining Requirement for international students in Australia
After landing in Sydney, international students are required to quarantine for 14-days.
Your educational institution will be providing you with the necessary information about your quarantine arrangements.
Students do not need to pay for the cost of quarantine accommodation.

Meals are included in these quarantine arrangements, therefore you do not need to pay for meals either.
You are able to order groceries, foods and other items, but you pay for that by yourself.

If you are a fully vaccinated international student from Singapore, you are not required to quarantine in NSW.
Quarantine Arrangements
Scape Redfern is partnering with the NSW government and the educational institutions to provide you with quarantine arrangements.
They offer Purpose-Built Student Accommodation, that comes with fully functional bathrooms, furnished kitchen area, bedroom and study corners. For more information, visit here.
You are not able to share a room with others. There's a strict policy of one student per room.
If you need to do laundry, you are able to use the laundry facility at Scape, however, you need to bear the cost of laundry by yourself.
If you happen to fall sick while quarantined, either from covid or other ailments, you will be transferred to Special Health Accommodation (SHA). SHA will offer you 24    /7 medical care to help you recover.

As a student, you don't have to pay any additional medical costs.
Post-Quarantine Arrangements
If your educational institution is based outside of Sydney then you can contact FCM to arrange a flight for you to reach your final destination. Alternatively, you can also arrange your own travel arrangements.
If your university is based in Sydney, you can contact your educational institution for guidance on your next steps.
Although it's not mandatory to confirm your post-quarantine address, it's highly recommended. You also need to notify your education provider of any changes to your current address or contact details as a part of your international student visa condition.
Are family members or partners allowed to come with me?
Given the program is in the pilot state, currently the travel quarantining arrangements are only made for the students. Therefore, you wouldn't be able to bring a family member, your partner or any dependent you may have.
However, family members/partners can travel to Australia if organised separately.
How much will it cost to participate in this Arrivals Program?
You are required to bear the cost of plane tickets to Australia.
You also need to pay for any additional items you require while quarantining that is not a part of the standard quarantine package offered by your educational institution.
The table below outlines an approximate cost of flight to Australia. Once you are offered a seat, the exact quotation will be sent to you beforehand.
| | |
| --- | --- |
| Source Countries | Approx. Airfare Per Person (incl. taxes & booking fee) [AUD] |
| Frankfurt, Germany | 4370 |
| Hong Kong | 2335 |
| London, UK | 3570 |
| Kuala Lumpur, Malaysia | 1870 |
| Paris, France | 3270 |
| Manila, Philippines | 2270 |
| Singapore | 1570 |
| Seoul, South Korea | 2370 |
| Taipei, Taiwan | 2470 |
| Bangkok, Thailand | 2070 |
| TBC, Vietnam | 2070 |
| TBC, India | 3270 |
| Kathmandu, Nepal | 3270 |
| Los Angeles, USA | 2770 |
| China | 2470 |
What do I do if the city I live in is not the city of departure?
If you are currently living in a city that's not in the departure venue, in that case, you would need to make your own travel arrangements to reach the departure venue prior to your flight.
It's recommended that you arrive at least 24 hours prior to your flight departure, to prevent any unforeseen delay.
What are the Cancellation Conditions?
In the unfortunate event of a positive COVID-19 test result prior to your departure, or any unforeseen circumstances you are able to cancel your flight.
For this cancellation you will be refunded, however, there will be a cancellation fee deducted from the refund amount. The cancellation fees are as follow:
China Southern fee: AU$50 (or nil with proof of positive COVID-19 test result) 
Cathay Pacific fee: US$70
Refunds for other causes permitted up to 5 days before departure. Total cancellation fees, as below, will be deducted from the refund amount due to the cancelling student.
China Southern fee: up to AU$600 
You also need to notify the FCM and your educational institution about the cancellation no later than 48-hours prior to your flight.
You cannot make a refund request any later than 48 hours prior to the flight departure
Note, FCM booking fee is non-refundable.
The standby students can take that seat up-to 12 hours before the scheduled flight departure time.

Border Updates from other States and Territories in Australia
Australian Capital Territory (ACT)
ACT already made the announcement that fully vaccinated international students will be able to come in from the start of the 2022 academic year.
The returning students will need to follow the required quarantining obligations and other rules that may apply.
Northern Territory 
Northern Territory is currently seeking the approval of their reopening plan by the national government.
Once an approval has been granted, chartered flights will be bringing in fully vaccinated returning students from January 2022.
Queensland
Fully vaccinated international students will be able to come in from the start of the 2022 academic year.
The returning students will need to follow the required quarantining obligations and other rules that may apply.
The plan prioritises those studying medical, medical research, and allied health disciplines. The state anticipates a phased approach with eligibility criteria for education providers and students, and the number of places, expanding at each phase.
South Australia
Once 90% of the South Australians (aged 12+) are fully vaccinated, fully international students will be able to come in with no quarantining requirement.
South Australia is expected to achieve a 90% double vaccination target by late December 2021.
Tasmania
According to Tasmania's opening roadman, fully vaccinated international travellers are able to come in from 15th December.
Although they wouldn't need to quarantine, a negative COVID-19 test must be provided upon arrival.
Victoria
Victoria's safe student return pilot plan has also been approved.
This means that international students are expected to come from December 2021, and following their arrival they would need to quarantine for 14 days.
Western Australia
Western Australia is set to welcome fully vaccinated international students from February 2022, just in time for the beginning of the academic year.
The official reopening date will be released once, Western Australia reaches the 80% double vaccination rate, which is estimated to  be in December 2021.
Do I need a visa?
Before you are able to apply for a place in this pilot program and eventually come to Australia, you need a valid visa.
Depending on what level and kind of course you are doing and other information, your visa requirement will vary.
At Path Migration we have assisted students, both onshore and offshore, get the best outcome from their visa application. If you are looking to eventually transition to permanent residence then it's very important that you initially choose the most appropriate visa category to help you achieve permanent residence smoothly.
At Path Migration, we have a team of immigration lawyers who specialize in immigration law. The team will provide you with all the in-house resources that will help make your applicant a success. If you have already been refused a visa or have had your visa cancelled then you will also be benefitted from your own personalized consultation. If you are unsure whether this visa category applies to you or not, then don't hesitate to contact us or directly email us at hello@pathmigration.com.
You may also be interest in: