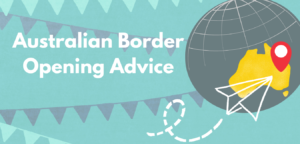 As Australia is fast reaching its vaccination targets, the Australian Prime Minister Scott Morrison has ardently announced the possibility of Australian borders reopening by the end of 2021. According to his announcements the priority will be given in the following order.
Australian citizen and permanent residents, who are stuck overseas;
Skilled migrants and international students.
Although the exact date is yet to be confirmed, from November onward it is expected that Australian citizens and permanent residents will be able to travel in and out of Australia. This is a part of Phase C of the National Plan to reopen Australia, where 80% of the Australian population is vaccinated.
For Australian citizens and permanent residents, who are fully vaccinated, they would only be required to quarantine for a week in their homes after they have returned. However, for those who haven't been vaccinated they will be in managed quarantine for 14 day; in addition to that, the number of travelers in this group will be capped.
To know more about how this border reopening will be, it's recommended that you read the following sections. This will be a quick guide for you on what you need to do and know prior to travelling to Australia.
Australia Travel Declaration
Prior to travelling to Australia, it's mandatory for everyone to fill out the Australia Travel Declaration a minimum of 72 hours prior to your departure.
Travellers who must complete the Australia Travel Declaration:

Australian citizens and permanent residents
Group of people who have been awarded the automatic exemption from Australia's travel restrictions
Anyone awarded individual exemption to the travel restrictions
Transit passenger
Travellers who don't need to complete the Australia Travel Declaration:
Flight crew
Foreign diplomats
People travelling on military flights
People arriving by sea (both crew and passengers)

The Australian Travel Declaration records:

Your contact details in Australia
Flight details
Vaccination records
Quarantine requirements
Your current Health Status

You can complete Australian Travel Declaration by:
After you have submitted the Australia Travel Declaration, you will receive an email. You would need to show the soft-copy or hard-copy of that email before boarding your flight to Australia or upon arrival to Australia. That email will contain:

A green response (with a tick)– This indicates that you don't need to quarantine upon your arrival.
A blue response (with an hourglass)– This indicates that you would need to quarantine after arrival.
A red response (with a cross)– This indicates that your airline will decide if you can travel or not. If they do allow you to travel, you would need to quarantine upon arrival.

If you have provided incorrect information on your Australian Travel Declaration or if you need to change any information due to sudden changes in  your circumstances, then you can try to update the details on your existing Australian Travel Declaration form. If you are unable to update it, then you need to submit another form.
Please be aware that the Australian Travel Declaration is completely free.
Pre-departure COVID-19 test
Before departing for Australia, you are required to undertake a COVID-19 test.
To be able to travel or transit through Australia, you need a negative COVID-19 Polymerase Chain Reaction (PCR) test result.
However, if you are travelling on a quarantine-free flight from New Zealand, in that case, only a negative COVID-19 PCR test is needed to be taken 72 hours or less before your scheduled flight.
You must always wear a mask, both in all the international flights and the airports.
For more information on exemptions to the pre-departure testing, please check the Department of Health website.
Additional requirements
In addition to the above, you will also need to meet the following requirements to be able to travel to Australia.
Before you board your flight, please make sure that you have a copy of all the documents in hand, as you might have to show these documents before boarding your flight or upon arrival.
Quarantine Arrangement
As stated above unless you are coming to Australia on a quarantine-free flight from New Zealand or you have been deemed  to be not requiring quarantining, you must follow the quarantine obligations set upon you.  Both Australian citizens and permanent residents are required to quarantine.
As deemed by the respective authority, you must quarantine for 14 days at a designated facility in your port of entry. You can travel to other cities, states and/ or territories after you have quarantined your designated port of entry.
You have to complete all the required declarations and documents needed to arrange an adequate quarantining arrangement for you.
You also need to follow the procedure in place for contact tracing, in the event of a positive COVID-19 case.
For International travellers, it's recommended that you check this guide for information on how to prepare for quarantine. You may also check this guide to help you better plan your time while in quarantine. In addition to that, international travelers may be required to pay the cost of their quarantining, therefore, it's recommended that you budget your travel to Australia accordingly.
Returning Australians
Although when the border reopens the Australian citizens and permanent residents will be given priority, however, as an Australian citizen or permanent resident if you have trying to  return to Australia but to no avail you can register your details with the Department of Foreign Affairs and Trade (DFAT): https://covid19.dfat.gov.au/citizeninformation/s/ .
This registration with DFAT unfortunately doesn't guarantee that you will be given a flight home, they will at least evaluate your personal circumstances and your eligibility for a seat in a government-facilitated commercial flight.
If you are seeking travel exemption or need professional assistance for your personal circumstances, you can contact us at Path Migration. If you have submitted a travel exemption application or visa application that has been refused or denied, our team of immigration lawyers can assist you sort it out. If you would like to get an assessment of your situation and the best possible course of action for you, please don't hesitate to directly email to hello@pathmigration.com.
You might also be interested in: