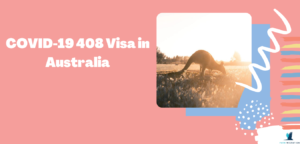 To respond to COVID-19, the Australian government has introduced flexible and temporary visa arrangements such as Temporary Activity (Subclass 408) that support Australia's public health measures. Below we have explained which group of people are targeted by this visa, how one can apply for this visa and many other important facts regarding this visa.
What is a Temporary Activity Visa (Subclass 408)? 
The Temporary Activity (subclass 408 Australian Government Endorsed Event (AGEE) stream) visa has mainly been designed for anyone undergoing the following situations:
You are currently in Australia, your current visa is expiring soon/ have expired, and you have no other visa options to extend your stay.
Given the above circumstances, you can neither depart Australia because of Covid restrictions.
 You have less than 90 days until the expiry of your current substantive visa or your substantive visa has expired not more than 28 day ago, and you would like to extend your stay as a critical sector worker.
If you find yourself to be in the midst of any of the above circumstances, then you may consider applying for this visa. If you are unsure whether your current circumstances can be classified as any of the aforementioned circumstances then we recommend that you seek professional consultation to better understand your situation and not miss out on any opportunities.
You can also continue reading to find out more about this visa.
Working in Critical Sectors
Other groups of people who are also eligible to apply for this visa are listed below:
Working Holiday Makers who weren't able to complete the 3 or 6 months work requirement in a specific occupation that would allow them to apply for a second or third Working Holiday maker visa, also they aren't able to depart Australia can apply for this visa stream instead.
Also Working Holiday Makers who work in critical sectors such as agriculture, food processing, health care, aged care, disability care, childcare, tourism and hospitality, and are not able to apply for any other visa are able to apply for 408 visa.
Anyone who holds the Temporary Skill Shortage (subclass 482) visa or Temporary Work (Skilled) visa (subclass 457), who has lost their job may also be able to apply for a 408 visa.
Anyone holding a temporary visa and is working in the tourism and hospitality sector can apply for the 408 COVID-19 Pandemic Event Visa.
Those already in Australia with the Seasonal Worker Program whose visas are expiring, will be able to extend their stay in Australia by applying for a Temporary Activity (subclass 408 Australian Government Endorsed Event (AGEE) stream) visa.
If your visa has been granted, you will be eligible to stay in  Australia for the duration of your travel restriction or up to 4 years. Temporary visa holders working in the tourism and hospitality sector will be able to stay and work for around 12 months if the 408 COVID-19 Pandemic Event Visa has been granted.
Visa of Last Resort
It must be understood that one should only apply for this visa if they can't depart Australia and if they are certain beyond any reasonable doubt that they don't have any other visa to apply for which would allow them to legally reside and work in Australia. Since, whenever it is safe and feasible for you to return to your home country you will need to comply with it.
How to Apply for this 408 Visa?
As mentioned above, firstly you must be certain that this visa is applicable for your personal circumstances. Have the following documents at the time of application:
Statement to show how you are impacted by the travel restrictions: This statement should provide information regarding why you aren't able to apply for other types of visa; why you are not able to leave Australia before the expiration of your current visa, and finally, what measures are you undertaking to ensure that you are able to leave Australia safely whenever the travel restrictions are relaxed or lifted.
Evidence of ongoing employment, if you are applying for this visa to be able to work or continue to work in the critical sector: This should include a confirmed date of your employment and the critical sector you are working in. Along with your detailed job description, it must also justify why an Australian citizen or permanent resident can't fill out that position.
Financial documents: This can include employment or bank statements, as well as evidence of your financial position from your bank.
Dependents under 18 documents
Dependents over 18 documents
Apply for the Visa by creating an account in or by logging into your existing ImmiAccount.
You should know that there's no application processing fee for the 408 visa application.
The processing times are not currently available for this visa application.
Before you apply for this visa, we highly recommend that you seek professional advice first. At Path Migration we have a team of experienced immigration lawyers who help you by exploring your visa applications, designing a pathway to extend your stay in Australia or secure permanent residence.
If you want to ensure that you have a successful application and you aren't missing out on other visa opportunities, then feel free to contact us or directly send us an email at hello@pathmigration.com.
For more information, please visit: