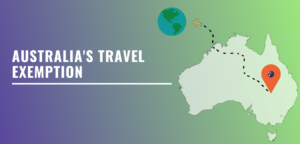 As Australia and the rest of the world is dealing with the many waves of the COVID-19, Australia's borders mostly remain closed unless there's a travel exemption granted. This travel exemption is applicable for anyone wanting to either enter Australia or Australian citizens or Permanent Residents wanting to depart Australia. Below is a list of category, people falling in any of these categories are already exempted, hence are not required to apply for an exemption.
People already exempted:
An Australian citizen or permanent resident coming to Australia (an exemption is required for travel from India);
An Australian citizen or permanent resident's immediate family members;
Individuals with New Zealand citizenship who mostly live in Australia;
Individuals who have been in New Zealand for the last 14 days or more and directly travelling to Australia by air;
Anyone transiting in Australia for not more than 72 hours;
Airline and maritime crew members;
Individuals who have been hired under the Government accepted Seasonal Worker Program or Pacific Labour Scheme;
Business Innovation and Investment (subclass 188) visa holders;
Any New Zealand citizen holding a Special Category (subclass 444) visa are exempted for traveling outside of Australia;
Anyone attending essential work that is situated at an offshore facility in Australian waters;
Individuals travelling on official government business, this includes individuals travelling on a diplomatic or official passport.
Anyone who falls under the aforementioned category are not required to apply for any exemption for either traveling to or out of Australia. However, if your personal circumstances don't match any of the above groups then you need to make the most persuasive application to be granted an exemption.
Exemptions for travelling to Australia
The travel exemption applications are made to the Australian Border Force (ABF) Commissioner. Before you can travel to Australia you first need to make sure that you have been granted an exemption.
While you are travelling, you may also be required to quarantine for 14 days after you have reached Australia. Since you have to bear the quarantining costs yourself, it is recommended that you look into the estimated costs of quarantining before you make the travelling decision. The quarantining contribution fee may differ depending on which state or territory you are travelling to.
As mentioned above, immediate family members of Australian citizens and permanent residents don't need any exemptions. According to the Australian Border Force, the immediate family members include spouse, de facto partner, dependent child, legal guardian.
Individuals who are legally married are classified as spouses. However, for individuals who classify as de facto partners they need to prove that they have been living together for at least 12 months. In case they haven't met this condition, they can still request an exemption based on the documents that prove a registered relationship or that prove compelling and compassionate circumstances.
The following visa holders are not required to apply for an exemption, since they are already exempted:
Subclass 100: Partner (Migrant) visa
Subclass 309: Partner (Provisional) visa
Subclass 801: Partner visa (Permanent)
Subclass 820: Partner visa (Temporary)
Subclass 101: Child visa
Subclass 102: Adoption visa
Subclass 445: Dependent Child visa
However, it should be noted that visa holders of Prospective Marriage visa (Subclass 300) are required to apply for travel exemption.
The reasoning that are accepted by the Australian Border Force (ABF) Commissioner for travel exemption are as follow:
Either the Australian Government or the state government or the territory government have invited the individual to help with the COVID-19 response.
The entrance of that person will be beneficial for the national interest and it has been approved by the authority.
Individuals offering medical services; this also includes professionals in delivering air ambulance, medical evacuations and the delivery of critical medical supplies services.
An individual has employer's sponsorship to work in occupation listed on the Priority Migration Skilled Occupation List (PMSOL).
Military personnel
Students who are completing year 11 and 12, with support from the relevant Australian State or Territory government health authority and education department.
Students completing the final year of study in medical, dental, nursing or allied health profession fields, and the student can provide evidence of placement in Australia in the upcoming two months.
Any compassionate and compelling reasons.
Exemptions for travelling from Australia
Depending on the residency status of the individuals, the travel exemption requirement will vary. Therefore the travel exemption for different categories of resident are listed below.
Temporary visa holders

Anyone holding a temporary visa doesn't need an exemption for departing Australia. However, they do need an exemption for traveling to Australia. Therefore, while temporary visa holders have the choice of leaving whenever they want, they should keep in mind the border conditions of their home country or the country they are travelling to.
If they are travelling for a short period of time and will be returning to Australia then they have to apply for an inwards exemption. To have an inward exemption granted they need to have met all the requirements of Australia's Inward Travel Restrictions, along with any compassionate or compelling grounds they may have for departing Australia in the first place.
Compassionate or compelling grounds includes but not limited to death or ailment of family members living overseas; or any essential travel for business purposes.
Australian and permanent residents
If they haven't been exempted already as they don't qualify for above mentioned exempt criteria. They need to apply for a travel exemption.
For a travel exemption to be granted, they need to prove that the travel is an essential part of COVID-19 measures.
They require a critical medical treatment that is not provided in Australia.
Their travel duration is more than three months.
They have compassionate and compelling or humanitarian grounds.
Finally, their travel is for national interest.
Compassionate and Compelling Grounds
When applying for an exemption, apart from the specified reasonings, the exemptions are also granted based on any reasoning deemed to be compassionate and compelling. As previously mentioned, compassionate and compelling reasoning may include but are not limited to death and ailment of people close to the applicant.
After lodging the travel exemption application it's within the discretion of the relevant authorities to determine if your reasoning is indeed compassionate and compelling. Therefore, it is always recommended that you provide all the necessary and relevant documents required to strengthen your application, so that your application has a higher chance of success.
Exemption Application Refusal
If your application has previously been refused then you can make another application, but do make sure that you are including all the relevant documents while applying. If a couple of your applications has been denied, then you also have the option of appealing the decision of refusal in court. For that we would recommend that you seek legal and professional advice.
At Path Migration, we have handled numerous exemption applications. We have a team of immigration lawyers, with years of experience who are specialists in the field. If you would like to get an assessment of your situation and the best possible course of action for you, please don't hesitate to consult us or directly email to hello@pathmigration.com.
You might also be interested in: