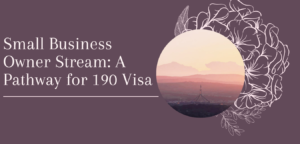 The Australian Capital Territory (ACT) government has newly added another stream to their Skilled Migration Program helping you achieve 190 visa. It is the Small Business Owner (SBO) stream that acts as a pathway to achieving 491 or 190 nominations in ACT, for anyone who meets the underlying requirements. This is one of the smart ways to aim for permanent residency in the long run.
Currently, aside from ACT, two states are also offering an opportunity for a place in the Small Business Owner stream. The states are Tasmania and Queensland. Therefore, or an individual looking to be nominated through this stream there are a couple of options for them to browse through. However, one must be cautious about the eligibility conditions because depending on the state and/ or territory they vary.
Before getting into the details of how to apply for the invitation of a place through the Small Business Owner stream, then subsequently applying for the visa, we'd first look into the eligibility conditions. To help you better understand the eligibility conditions and also know your options, the eligibility criteria of Queensland, Tasmia are also listed below, along with that of the ACT. This helps you with comparing the Small Business Owner stream in these states and territories, therefore, choose the option that better suits your situation.
The underlying conditions for the Small Business owner stream are as follow:
Category
Queensland
Tasmania
ACT
Eligible visa
491 (Provisional)
491 (Provisional)
190 (Permanent Resident) and 491 (Provisional)
Current Visa
Your current visa must give you the full working rights. Therefore, visas such as student visas are unqualified.
Any type of visa holder is eligible.
Any type of visa holder is eligible.
Location
You must reside in Queensland for a minimum of 6 months.
You must reside in Tasmania for a minimum of 6 months.
You must reside in Canberra for a minimum of 3 months to be nominated for subclass 491, and must reside for a minimum of 6 months to be nominated for subclass 190.
Business Types
One must purchase an existing business. However, in case one purchases a franchise, then it should be operating for a minimum of a year.
It has to be a new business that needs to be established.
One can either purchase an existing business or start a new one.
Business Value
A minimum of AUD 100,000
No requirement
No requirement
Ownership Share
100%
100%
A minimum of 51% of the business ownership, and the other partner(s) has to be an Australian citizen or permanent resident.
Annual Business Turnover
No requirement
No requirement
AUD 200,000 (or pro rata)
Business Length 
A minimum of 6 months prior to applying.
A minimum of 6 months prior to applying.
A minimum of 6 months prior to applying.
Number of Australian citizen/ PR employees
You have to employ a minimum of one employee who is either an Australian Citizen, or Permanent Resident, or a holder of subclass 444 visa with a minimum of 20 hours/ week.
No requirement
You have to employ a minimum of one employee who is either an Australian Citizen, or Permanent Resident, or New Zealand Citizen for a minimum of 13 weeks with at least 20 hours/ week.
Your Salary
There isn't any particular requirement, but you are required to have an income of at least AUD 53,900 for 3 years in the upcoming 5 years if you were to be eligible for 191 permanent visa.
You have to illustrate that your business can generate a personal income of a minimum of AUD 53,900 for a minimum of 3 years out of the 5 years.
To be nominated for the subclass 190, you need to have a minimum salary of AUD 26000 for at least 6 months. For 491 nominations, you must have a minimum salary of AUD 13000 for at least 3 months.
Businesses that are unqualified

Start-ups
Home-based businesses
Part owned
A business that has already been used for the Queensland SBO stream.

Franchises
Part owned
Passive income business
Service stations
Massage clinics
Taxi/Uber related businesses

Sub-tenancy
Ride-share/ taxi
Courier Services
A business that has already been used for the ACT SBO stream.
As you can see from the above table that briefly lists the conditions applicable for the SBO nominations, depending on the state and territory, the requirements are different. Therefore, before applying, you should carefully consider which state and territory gives you the best chance of success. In fact, we also recommend that you seek professional counselling to help you make the best decision.
If you believe that you are better suited to secure a place in the Small Business Owner stream in the ACT, then you can look into the application procedure outlined in the latter section.
Important Updates
Unlike other states and territories, the ACT follows a matrix system that determines your eligibility based on the score you get. Generally, anyone meeting the eligibility conditions can apply, however, the selection for invitation depends on the demand for the inhibition. The minimum cut off score is also decided after all the applications have been received and the total demand has been assessed.
Before moving on to the application procedure, there are few important things to take under consideration. Following the July 2021 announcements, few updates have been made to the ACT Small Business Owner stream. The updates are listed below:
You are no longer required to provide the Commitment to Canberra statement.
If you are a self-employed applicant then you should earn at least AUD520 per week, in case of full time employment, it should be AUD1000.
The requirement that employees need to work in Canberra for an interstate employee has now been simplified. As they are able to work in a service office but it can be online or from home.
The spouse employment requirement has also been simplified. In case your spouse fails to meet the requirements of being employed for at least 3 months, that's still alright, as an tertiary qualification from an Australian institution in any occupation now suffices. The tertiary qualification can include 3 year trade, a Bachelor's degree, Master's degree or PhD.
Unlike some states, for ACT 190 and 491 nomination under the SBO stream, one does not need a full time work right. Rather, the SBO employment eligibility is dependent on one's minimum income, instead of working hours. Therefore, if you hold a student visa and have a minimum earning of AUD 13,000 in six months then you can apply for 491 and 190 ACT nomination.
This update is for the best, as the SBO supporting documents have been reduced, however, a stat dec confirming the ACT business activity/ employees is still essential.
Application Process
Based on the above eligibility criteria and the recent updates, if you deem yourself eligible then you can follow the following steps.
Submit the Canberra Matrix: First you are required to submit the Canberra Matrix in order to determine your score. It is important to note that one a matrix has been submitted, it can neither be updated nor be withdrawn. Therefore, you must be cautious so as not to make any error or provide any  misleading information in your matrix.
Apply for ACT Nomination: If you have been invited to apply based on your score then you now need to apply for the ACT Nomination. You must make this application within 14 days after the day of the invitation grant. You also have to make a payment of AUD 300 as application fee. The ACT government only [provides one nomination place per person, unless you have a genuine reason for them to do otherwise. Therefore, you make sure that you are keeping track of your deadlines and your application does not have any errors.
Apply for the Visa: If you successfully get nominated  by the ACT, you are then required to apply for the appropriate visa with the Department of Home Affairs. You must be wary that you need to apply for the visa within 60 days since you have been granted nomination.
This application process although appears pretty straightforward, however, understanding what papers to include and which category or streams gives your application the best chance of success can be a very complex and overwhelming process In addition to that these processes are very time sensitive, therefore, you must always be vigilant regarding anything that might be asked of you and provide those documents on a timely basis.
At Path Migration, we have dealt with any applications and have always had a successful application. We take the time to carefully go through our clients' documents and personal circumstances so that we are able to put forward an application that gives you the best chance of success.
Not only have we helped with applications for current students and recent graduates, but we have also assisted set up businesses in Australia for offshore applicants. We have also had a good many experiences with skilled individuals seeking permanent residency by highlighting how their work experiences are so well related to their current occupation and the occupation nominated.
If you are someone who is actively looking for permanent residency in Australia and would like professional consultation regarding your personal situation then do not hesitate to contact us. At Path Migration, we have a wonderful team of immigration lawyers who are highly experienced and specializes in migration law. To book your personalised consultation please contact us or email directly to hello@pathmigration.com.
You may also be interest in: