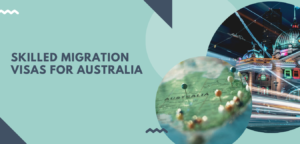 If you want to migrate to Australia without getting sponsorship from an employer, then skilled migration visas are the perfect choice for you. You must possess professional skills in an occupation that is demanding in Australia. There are various factors that should be considered by you before applying for such visas including occupation, experience, education, and English language skills.
General Skilled Migration is the best way to migrate to Australia permanently as it provides a path for visa holders to apply for permanent residency. There is no requirement for linkage to only one employer in this case.
Benefits of Skilled Migration Visas
There are various important and useful benefits that a skilled migration visa holder gets in Australia including: –
A skilled migration visa provides an opportunity for people to live, work, and study in Australia.
It provides public healthcare services.
It allows the visa holders to have their children attend a public school.
It does not require an employer to sponsor the visa holders.
Some of these visas are permanent (180 and 190).
The 491 visa leads to permanent residence after three years.
The Application Process For Skilled Migration Visas
The application process for skilled migration visas is highly challenging for even well-educated applicants. You need to go through the application process quite calmly. Here is a general breakdown of this process to simplify the requirements for you: –
Eligibility 
The first and foremost step is to check your eligibility for a particular visa. You should go through the Points Test to know whether you are eligible for a visa or not. Along with the points test, you should pass a skills assessment test too. You can obtain a full skills assessment from your relevant assessing authority.
Submission of Expression of Interest (EOI)
After passing the Points Test and Skills Assessment Test, you will be required to submit an EOI. You can use SkillSelect in this regard if you possess the necessary skills. It is a primary requirement if you apply for a Subclass 189 or a Subclass 190 visa.
Receiving an Invitation 
The Australian government, the Australian employers, and/or the Australian state governments will invite you to apply for the skilled visa based on your EOI. For the 191 and 491 visas, the state invitation is a primary requirement.
Apply for Visa
The Australian Department of Immigration and Border Protection (DIBP) will send you an invitation for applying for a particular skilled migration visa. After receiving this invitation, you are required to lodge a visa application within the next 60 days. You are not eligible to apply for a visa if you have not received an invitation.
Types of Skilled Migration Visas
There are various skilled migration visas offered by Australia to foreigners. Each of these visas has its own requirements and benefits. Let us discuss them in detail.
Skilled Regional-Subclass 491
On November 16, 2019, the 491 visa replaced the 489 visa. It is originally a temporary skilled migration visa that may lead to permanent residence (PR). You do not need to be sponsored by an employer to acquire this visa. It requires you to commit to living and working in a regional area in Australia.
The 491 Visa Requirements
It is important for you to meet the 491 visa requirements before applying for it. Here are all of those requirements that you should fulfill to get it: –
Your current age is between 18 and 45 years
You must hold a positive skill assessment on a regional or state list
You must hold competent or higher English level in IELTS (a score of above 6)
You must hold a valid/approved passport
You must be nominated by a region or state to apply for the visa
You must fulfill the health and character requirements
You must pass the skilled migration test (65 or above points)
Skilled Regional-Subclass 191
The 191 Visa is for those who have already lived, worked, and studied in a regional area of Australia on an eligible visa. After getting the 191 visa, you will be able to live, work, and study permanently, anywhere in Australia. You will also be able to sponsor your relatives for permanent residence. You will also get an opportunity to apply for Australian Citizenship under this visa.
The 191 Visa Requirements
You have to fulfill the following requirements before applying for the Skilled Regional-Subclass 191 visa: –
You must have an eligible visa
You have already lived for three years in a designated region of Australia
You have had a taxable income at or above a particular income threshold for at least three years
You, as a primary or secondary applicant, have ensured your compliance with the eligible visa terms and conditions
How Path Migration can help you? 
You must have gained enough knowledge about the application process and eligibility requirements related to Skilled Regional Subclass 491 and 191 visas. Now, let us discuss how Path Migration can make the application process easier for you by overcoming some common yet complex challenges.
Skills assessment lodging 
You have to meet the requirements issued by different skills assessment authorities to start the application process. Our services will help you to ensure the validity of all required documents for these assessments.
Solving visa-related problems 
Your application could suffer from some common issues and problems and they must be rectified before submission. Our professional migration visa agents will help you rectify such problems and ease the application submission with guaranteed results.
Reviewing Points Test Results
It is not as easy to calculate points test results as it looks. We have experienced staff members that can help you to get rid of complications related to the points test score. They will advise you on the likelihood of getting an invitation from the Australian officials to apply for a visa.
Quick application processing  
The aim of Path Migration is to make the skilled migration visa application process smooth and quick. Most of the people want to migrate to Australia from other countries as soon as possible. We have the ability to process decision ready applications for you.
Frequently Asked Questions
What is a Skilled Migration Visa? 
Australia invites skilled people from all across the world to provide their services in Australia on various visas including the 191 and 491 visas. These visas offer permanent or lead to permanent residence to the foreigners.
How many points should I get to acquire a general skilled migration visa?
The minimum points to acquire a general skilled migration visa to Australia depend on which visa you are applying for. However, you need to get at least 65 points to submit an expression of interest (EOI).
How can I apply for a general skilled migration visa? 
You can only apply for a general skilled migration visa to Australia if you are being invited by the Australian government or employer. You can submit an EOI to get an invitation.
Which Australian state is easy for general skilled migration?
Different states and territories in Australia have different requirements related to the general skilled migration. However, NSW and Victoria are hard to migrate to as compared to other states in general.
How can I get extra points while applying for a general skilled migration visa?   
There are various ways you can adopt to gain extra points for general skilled migrations including improving English skills, getting more work experience, taking the NAATI exam etc.
Is passing skills assessment necessary for general skilled migration? 
Different skills assessments have different requirements. You must have a skills assessment before applying for a skilled visa.
Which skills are highly demanding in Australia for general skilled migration?
In Australia, medical, engineering, business, and computer professionals are highly demanding. People possessing these skills can easily migrate to Australia to provide their services.
You may also be interest in: